Nebraska YouTuber Faces Lawsuit After Worker Dies in Missile Silo Renovation
By Nadia El-Yaouti | Posted on November 15, 2023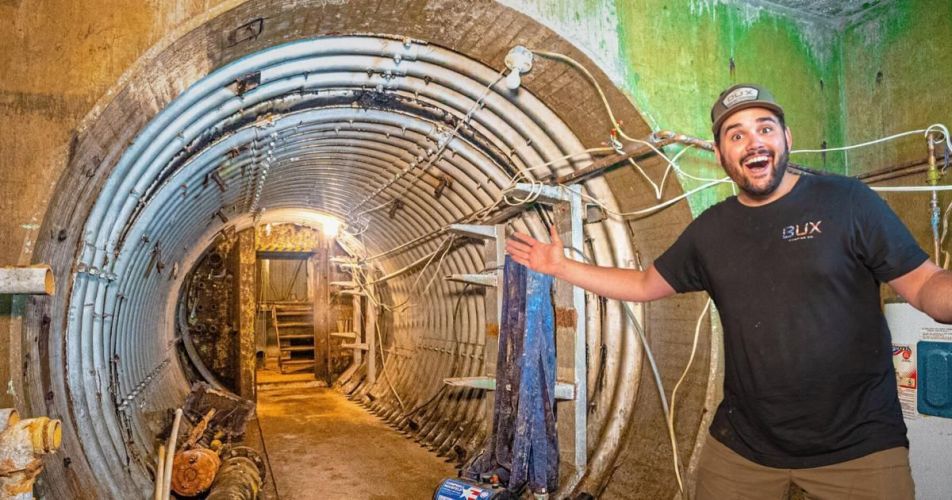 Photo Source: YouTube via Fox11online.com
A popular Nebraska YouTuber is facing a federal negligence lawsuit after a man died while working on the YouTuber's renovated missile silo. The lawsuit was filed in August of this year but was first reported by the Omaha World-Herald earlier this month.
Twenty-two-year-old Andrew Flair built a massive YouTube following of over 2.7 million subscribers, and his followers regularly tuned in to watch his survival videos. After Flair purchased an abandoned nuclear missile silo in the fall of 2022, he documented his journey online as he transformed the missile silo into a studio apartment.
As reported by the Omaha World-Herald, on Dec. 20, 2022, 66-year-old Joseph Arkfeld was hired by Flair to do some electrical work on the abandoned missile silo. Mary Arkfeld, Arkfeld's widow who filed the lawsuit, said that although her husband was retired, he took on odd jobs occasionally.
According to the lawsuit, Arkfeld was working on a steel door that closed with over 2,000 lbs of force. Flair's father, Michael Flair, was also helping with renovations that day. The elder Flair, however, left in the afternoon, leaving Arkfeld behind to continue working alone.
The lawsuit details that at some point after Flair's father left, Arkfeld died when he became trapped between the steel door and a wall. According to the complaint, the entry door, which "resembled a reckless Rube Goldberg machine," was operated by an electrical winch powered by a battery. After connecting the battery, the winch utilized a steel cable to open and close the door.
Arkfeld was either leaving or entering when the steel door began to close, trapping him and ultimately killing him. Arkfeld's widow says that her husband "spent several tortuous moments trapped and unable to free himself from the force of the door, likely terrified, knowing he was about to die." Arkfeld was eventually released from the door, but only after a tow truck was used to pry the heavy door open, as the door had become inoperable after the impact.
Under section 185.07 of the Nebraska Revised Statutes, Nebraska follows the legal principle of modified comparative negligence, which applies when the plaintiff in a lawsuit is believed to bear some responsibility for the accident or injury. Like many states, Nebraska follows the 50% bar rule, meaning that if a plaintiff is found to be at or over 50% at fault, they are barred from recovering any damages. This rule could come into play if the defendant Flair alleges some measure of negligence or fault on the part of Arkfeld.
Arkfeld's widow maintains that Flair's negligence was to blame for her husband's death. Her lawsuit explains that Flair gave "inadequate instruction" to her husband about how to operate the door and that Flair knew that the door had a defect that could cause harm.
The lawsuit also makes the claim that Flair "mocked safety protocols and safe working conditions," pointing to some of his YouTube videos where he makes statements regarding safety on his projects.
Scott Allen, the Regional Director for Public Affairs and Media Relations at the U.S. Department of Labor, shared that the Occupational Safety and Health Administration (OSHA) did not investigate Arkfeld's death because the relationship between Arkfeld and Flair was not one of an employer and employee. Instead, Flair was a sole proprietor who hired Arkfeld on as a contractor, meaning the case did not fall under OSHA Jurisdiction.
Arkfeld's lawsuit is not seeking a specific amount of monetary damages. According to her lawyers, Mark Richardson and Sam Colwell of the Rembolt Ludtke law firm say they will "leave it to the jury" to decide.